Trek Dual Sport 3 Gen 5 Hybrid Bike 2023
Trek Dual Sport 3 Gen 5 Hybrid Bike 2023
$1,599.00
Trek Dual Sport 3 Gen 5 Hybrid Bike 2023
The Dual Sport 3 is a high-performance, go-anywhere hybrid bike that transitions from road to rougher terrain with ease. It has a light frame and a low-maintenance 1x drivetrain with a wide range of gears. Its wide Bontrager Kovee wheels and lofty gravel tyres soak up bumps and rough terrain for a comfortable, confident ride on road, rail trails and light dirt paths.
Description
Colour
Black Olive
| | |
| --- | --- |
| Size | Rider Height |
| XS | 147 – 155 cm |
| S | 155 – 165 cm |
| M | 165 – 175 cm |
| L | 175 – 186 cm |
| XL | 186 – 197 cm |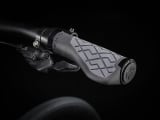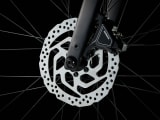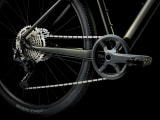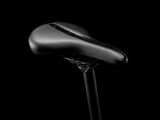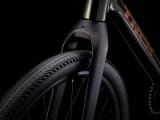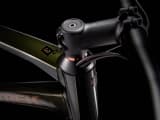 Related Products
Featuring a lightweight 6061 aluminum frame, 80mm travel suspension fork, Tektro disc brakes and Shimano drivetrain, Divide hits all the marks at a very reasonable price point.

BYK E250 MTBG

THE ULTIMATE FIRST KIDS MOUNTAIN BIKE

E-250MTBG | AGE: 3 – 5 YEARS | HEIGHT: 85 – 102CMS

Ability Level: Learning to ride their first bike

Push, Run or Pedal – This bike offers three bikes in one! With a detachable push handle, our low ergonomic frame and ultralight weight, learning to ride off-road, or on, has never been easier.

With rolling dynamics 30% superior to competitors, and custom-fitted knobby tyres for all weather and even the toughest conditions, the E-250MTBG is the absolute best first mountain bike experience for your budding champion.

Design:

By considering shoulder width, riding position, safety and comfort, we have created a light, easy to ride and ergonomic design that ensures a great fit. And for a child to ride comfortably and in the correct position the saddle should be padded and matching the size of their body – we have done just that with the E-250MTBG.

Performance:

With a lightweight Alloy ergonomic frame and the low gravity concept, the E-250MTBG is approximately 30% more efficient than comparative kids bikes. And light wheels make pedalling easier; professional bike riders insist ont hem so why shouldn't our kids too! At just 7+kgs, it is one of the lightest bikes for this age group – most alternative kids bikes weigh more than 11.5kgs! And of course, for the off-road experience, your future ByK champion MTB rider has custom-fitted knobby tyres to make it over the tough terrain.

Safety:

To make a children's bike safe, the rider needs to be able to brake efficiently and confidently. On the front we have used an alloy side pull calliper for developing immediate hand control, and at the rear a coaster brake for simple and safe foot braking.

We have used alloy front and rear callipers with light action for superior control and a simple and safe coaster style foot brake. The best of both worlds we believe. The custom-sized V-Brakes we have used are calibrated for age, ability and ergonomic fit. And they are made of non-flexing, strong and light alloy. Our light weight alloy rims ensure pedalling is easier. But more importantly alloy rims are a more efficient braking surface than cheaper, chrome-plated steel rims, and are therefore safer.

Little Details Count:

Detachable push handle for helping get the rider up to balance speed.
Quick release seat clamp to easily remove push handle.
Custom length cranks.
Custom-fit knobby tyres to handle off-road terrain.
Ergonomic riding triangle between pedals.
Seat and handlebars for best balance and control.

XDS Loretta Retro Bike

Available in

15″ suitable for  150cm to 160cm

17″ suitable for 165cm to 175cm

19″ suitable for 180cm to 190cm

Define your style with the XDS Loretta retro bike. Make a statement with your choice of 6 vibrant colours, colour matched fenders, front basket and a rear rack. Stay comfortable with a low step-through and lightweight alloy frame. Ride smart with a 7-Speed Shimano Altus Drivetrain, and reliable Tektro V-Brakes.

Low Step-Through Alloy Frame

Experience the ease of riding on a lightweight aluminium alloy frame that is nimble and easily manoeuvrable. The Low Step-Through design makes mounting and dismounting both safe and simple even in a dress or casual wear.

Shimano Altus Drivetrain

Adapt to your terrain easily with an 8-Speed Shimano Altus Drivetrain. Find the perfect gear ratio for climbing through hills or riding across flats.

Tektro V-Brakes

Trust in the reliable stopping power of Tektro alloy V-Brakes.

Carrying Capacity

Front basket and rear rack make riding with your valuables simpler and safer.

Supportive Posture

The comfortable Cionlli rail and spring saddle and swept back handlebars encourage riding with an upright posture for better spinal support.

Jamis Trail X A2

Coming soon!

Building great recreational-level bikes that ride much like our high-end bikes is a passion at Jamis. No bikes showcase our commitment to do just that better than these. The Trail X chassis emphasizes all-day performance with quick, but not overly twitchy handling attributes. Make no mistake though, if you want to throw down they're more than able to keep up.

Trail X features lightweight and strong 6061 series aluminum tubing, featuring over-sized & tapered tubing for increased frame stiffness.

Merida Big Nine 20-2x

Besides offering the BIG.NINE in a full carbon version, Merida also have BIG.NINE LITE and BIG.NINE/ SEVEN TFS aluminium frames in our range. While the LITE features the same race-proven geometry as the carbon models, the TFS bikes offer a more relaxed geometry, through a shorter top tube and a higher head tube, resulting in a more upright riding position and enhanced trail visibility. The TFS frames feature internal cable routing (except the BIG.NINE/BIG.SEVEN 15), smooth welding, tapered head tube, inboard disc mounts, and mounts for fenders, rear rack and kickstand.
Merida's classic hardtails are the backbone of our range and showcase the enormous wealth of experience and knowledge we were able to gain in 48 years of bike production and manufacturing. The BIG.NINE and BIG.SEVEN range symbolises the symbiosis between modern frame technology, attention to detail and craftsmanship 'Made in Taiwan'.

Merida Big Trail 500 2022

In Store

Trail riding is your passion and you love the simplicity of a hardtail as well as the way it connects you to the track. The BIG.TRAIL 500 is your perfect companion, featuring a playful yet stable geometry that will deliver confidence and inspires you to go that little bit further. Chunky 29er tyres, a long travel fork and a long dropper post increase that confidence and capability even further. We often associate 'trail fun' and 'trail capability' with more and more full suspension travel because long-travel bikes are getting more capable on the way down and on the way back up again. At the same time, the trail hardtail has developed quietly in its shadow. After being absent from this segment, we returned to the trails with a bang onboard our BIG.TRAIL. Merida trail hardtails took the bike press and trail riders by storm and have managed to perfectly combine a modern trail bike geometry with long-travel forks and chunky 29er wheels for amazing corner grip and comfort. If you haven't heard or you're not yet a proud owner of it, then welcome to Merida BIG.TRAIL which offers simplified and hassle-free trail fun in spades. Available from S to XXL giving our BIG.TRAIL ample size and reach options.

Durable double butted aluminium frame
140 mm trail fork
Modern trail bike geometry with long reach, slack head angle and steep seat angle
29er wheels specced with 2.4″ trail tyres and clearance for 2.5″
Extremely low standover height paired with long travel dropper posts
Multiple fixing points for bottles and other equipment, internal cable routing

Jamis Divide Step Over

TOP-NOTCH PERFORMANCE TO GET YOU STARTED DOWN THE MOUNTAIN BIKING PATH.

Featuring a lightweight 6061 aluminum frame, 80mm travel suspension fork, Tektro disc brakes and Shimano drivetrain, Divide hits all the marks at a very reasonable price point.