Merida Big Nine 20-2x
$839.00
Merida Big Nine 20-2x
Besides offering the BIG.NINE in a full carbon version, Merida also have BIG.NINE LITE and BIG.NINE/ SEVEN TFS aluminium frames in our range. While the LITE features the same race-proven geometry as the carbon models, the TFS bikes offer a more relaxed geometry, through a shorter top tube and a higher head tube, resulting in a more upright riding position and enhanced trail visibility. The TFS frames feature internal cable routing (except the BIG.NINE/BIG.SEVEN 15), smooth welding, tapered head tube, inboard disc mounts, and mounts for fenders, rear rack and kickstand.
Merida's classic hardtails are the backbone of our range and showcase the enormous wealth of experience and knowledge we were able to gain in 48 years of bike production and manufacturing. The BIG.NINE and BIG.SEVEN range symbolises the symbiosis between modern frame technology, attention to detail and craftsmanship 'Made in Taiwan'.
Description
FRAME SIZE
S, M, L, XL, XXL
COLOR
MATT FOG GREEN (MOSS GREEN) &  MATT ANTHRACITE (SILVER)
DERAILLEUR (R)
Shimano RD-M360
DERAILLEUR (F)
Shimano FD-TY700
SHIFTER FRONT
Shimano ST-EF505
SHIFTER REAR
Shimano ST-EF505
BRAKE FRONT
Shimano ST-EF505
BRAKE REAR
Shimano ST-EF505
CHAINWHEEL
Shimano FC-M315-2
CRANK SIZE
170 mm-S, 175 mm-M/XXL
SADDLE
MERIDA Sport comfort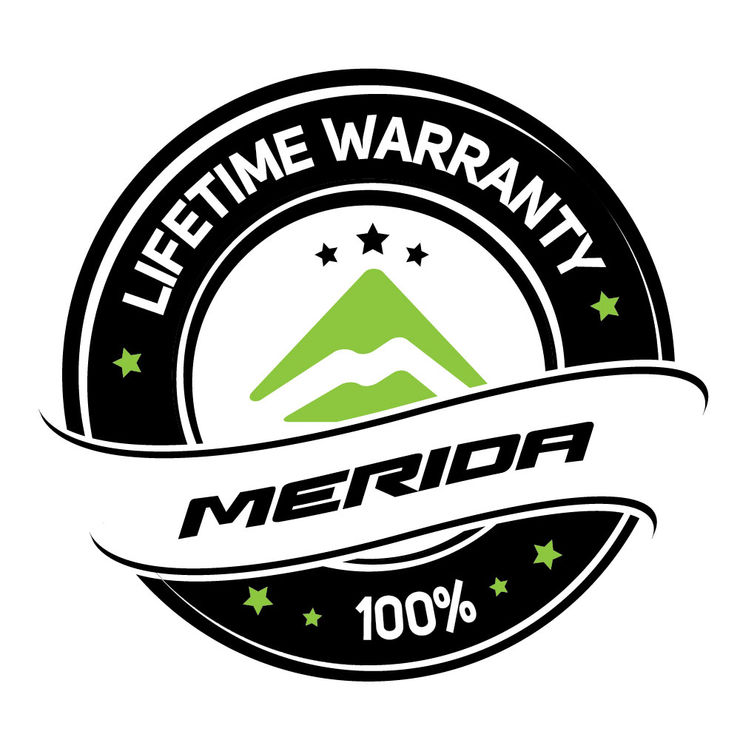 Related Products
Merida Matts J24

These models are built around a very small adult frame with 26″ wheels. As the child grows, the wheels can be swapped for 650B wheels, meaning the bike will fit your child for longer.
Many of Merida's bikes feature rigid forks. This helps to keep the weight down, which is a big advantage for much lighter riders. Gears are also kept to a minimum, avoiding confusion for young riders, as well as reducing weight.
All kids' bike frames are made with the same 6061 lightweight aluminium we use in our adult bikes; we don't cut any corners. They're also painted and lacquered in the same way, so the bikes can still look great even after a few tough knocks.

BYK E350 x3i MTR

THE BIKE EVERY KID WOULD LOVE TO LEARN ON…WITH MORE!

E-350X3I| AGE: 4 – 6 YEARS | HEIGHT: 95 – 117CMS

Ability Level: Able to ride, developing major skills.

This new model introduces a range of bikes that has the advantages of both Mountain and Road style. Fitting the potential of riding on gravel paths and narrow tracks but also just as easily ridden to school and around the bike paths.

Optimising both ease of riding and added strength, features abound like the internal 3 speed Shimano gears, curved CRM forks, All purpose tyres, protective chain guard, adjustable headstem and the added practicality of a polished Aluminium frame. The new MTR range is versatile, light and strong and above else extremely relevant to today's modern rider.

Design:

With no external moving parts and designed by Shimano for electric bikes and folding bikes, the internal 3-speed i-motion gear system has been customised to suit the E-350.

At the heart of every ByK Bike is a well designed frame and lightweight frame – so your child will have a light and easy bike to ride. Small children have a narrow pelvis. We believe for a child to ride comfortably and in the correct position, the saddle should be padded and matching the size of their body – we have done just that with the E-350.

Performance:

With lightweight alloy wheels, we've made pedalling easier; professional bike riders insist on them so why shouldn't our kids too! And the smooth, faster-rolling tyres don't wear little legs out so quickly – as opposed to regular BMX kids bikes that have wide tyres with big knobs that most kids struggle to get going on. At just over 8kgs, the E-350 is approximately 30% more efficient than comparative kids bikes.

Safety:

To make a children's bike safe, the rider needs to be able to brake efficiently and confidently. On the front we have used an alloy side pull calliper for developing immediate hand control, and at the rear a coaster brake for simple and safe foot braking.

We have used alloy front and rear callipers with light action for superior control and a simple and safe coaster style foot brake. The best of both worlds we believe. The custom-sized V-Brakes we have used are calibrated for age, ability and ergonomic fit. And they are made of non-flexing, strong and light alloy. Our light weight alloy rims ensure pedalling is easier. But more importantly alloy rims are a more efficient braking surface than cheaper, chrome-plated steel rims, and are therefore safer.

Little Details Count:

Increased knee to handlebar clearance for growing bodies.
Alloy seat clamp.
Custom length cranks.
Pedals with bearings.
Smooth running tyres to reduce road friction and noise so your child can hear safety instructions.
Ergonomic riding triangle between pedals, seat and handlebar for best balance and efficiency.
Long wheelbase for more predictable handling at higher speeds.

 X Lite 24 Girls

For intermediate young riders of intermediate skill, there's the XLite Girls' 24": recommended ages 11-16. With stiff and lightweight alloy frame, pedalling and control are more manageable. Further control and riding efficiency are found with front 'V' brakes, ergonomic design, and a low step-through frame.

Lightweight Alloy Frame

Reduce your riding effort whilst improving your handling with a lightweight 6061 alloy frame.

Shimano 7 speed drive train

Watch as your little one tackles any landscape with the 7-Speed Shimano drivetrain, while they shift gears easily with the Shimano Revoshifters.

Stop Confidently

Using a reliable power alloy 'V' brakes, you'll be confident of great stopping reliability.

In Store now

Merida Matts J16

The Merida Matts J16 Boys Bike is a fun and cool bike for 3-6 year olds who want to enjoy riding in comfort on two or four wheels. The lightweight alloy frame is much easier to handle and control than a steel frame which kids bikes usually use, which is important for kids that are at an age where they are still developing strength and coordination.
The Matts J16 is built specifically for kids with its lower standover height and 16″ wheels for comfort and control. When your kids develop their riding skills you can simply remove the training wheels and now you have their first ride on two wheels.
Whether it's your kids first bike or just an upgrade once they have outgrown their old toddler bike, the Merida Matts J16 Boys Bike is a great choice for your kids next bike.

CURRENT STOCK REDUCED TO $399!

Only 1 left – Orange 18″!

Merida Matts 6.5V

The Merida Matts 6.5-V recreational mountain bike is designed for teens or younger riders who aren't quite after the full size mountain bike. This entry-level bike is an excellent choice for a rider that just wants to get out and experience mountain biking and the outdoors on a versatile and reliable bike. The Matts 6.5-V comes with a quality Racelite 6061 lightweight alloy frame which is still very tough and durable. Merida has used an additional heat treatment and double-butted wall thicknesses to produce this light and stiff frame.

The Suntour M3010 suspension fork will handle some bumpy trails or rough footpaths comfortably. While the 21 speed Shimano groupset gives you trustworthy shifting with smooth and comfortable efficiency. The design and components of the Merida Matts 6.5-V make it an ideal bike for the youth or smaller adult riders who are after a 26' mountain bike with versatility and durability.

Features

Racelite 61 Aluminium: We use a minimum of 6061 aluminium. The pay back is that it's possible to make lighter and more advanced frames. We use an additional heat treatment and double-butted wall thicknesses to produce light and stiff frames.

Merida Big Seven 10-MD-3x

The Merida Big Seven 10 MD is an entry-level hardtail bike that is built for enjoying trails and exploring the great outdoors. The Big Seven is built with a reliable Merida 6061 series double butted and technoformed aluminium frame which is tough and lightweight for a swift and durable ride. All of Merida's hardtails are built with their hardtail specific geometry for the best riding experience, so that you can ride in comfort with snappy handling at high speeds. You'll enjoy the rough and tumble of the trails with a 100mm travel SR Suntour XCE28 Fork, ensuring that you can enjoy some real trails with comfort.
Even on a more affordable model like this you still get Merida's Smart Entry, with cables, housings and brake cables clamped under tension to prevent rattling. Add in the Jak-7 mechanical disc brakes and you've got a winning combination give you control over this agile trail machine. Power along the trails with the 3×7 speed drivetrain which gives you a versatile range of gears to climb and descend, ideal for an entry-level mountain bike.
The Merida Big Seven 10 MD is a sturdy and fun hardtail mountain bike which is a great entry to mountain biking and the world of opportunities. You get a lightweight and tough frame which seamlessly pairs with the SR Suntour fork and shimano parts to give you an awesome riding experience on every single ride.
Following in the footsteps of the TFS frame which was introduced in 2018, the SPEED frame is now in line to get a makeover. The introduction of slim tube shapes creates a new look and a more relaxed geometry, through a shorter top tube and a higher head tube, resulting in a more upright riding position and enhanced trail visibility. The new frame also comes with IS brake mounts that are positioned within the rear triangle as well as with kickstand and fender mounts.
Merida's carbon (CF) and aluminium (LITE) models feature a long 422 mm reach, steep 73,5° seat angle, slack 70° head angle and an 80 mm stem (frame size M), affording the next generation XC geometry. Aggressive agility meets stable calmness; perfect for today's demanding courses.

XDS Loretta Retro Bike

Available in

15″ suitable for  150cm to 160cm

17″ suitable for 165cm to 175cm

19″ suitable for 180cm to 190cm

Define your style with the XDS Loretta retro bike. Make a statement with your choice of 6 vibrant colours, colour matched fenders, front basket and a rear rack. Stay comfortable with a low step-through and lightweight alloy frame. Ride smart with a 7-Speed Shimano Altus Drivetrain, and reliable Tektro V-Brakes.

Low Step-Through Alloy Frame

Experience the ease of riding on a lightweight aluminium alloy frame that is nimble and easily manoeuvrable. The Low Step-Through design makes mounting and dismounting both safe and simple even in a dress or casual wear.

Shimano Altus Drivetrain

Adapt to your terrain easily with an 8-Speed Shimano Altus Drivetrain. Find the perfect gear ratio for climbing through hills or riding across flats.

Tektro V-Brakes

Trust in the reliable stopping power of Tektro alloy V-Brakes.

Carrying Capacity

Front basket and rear rack make riding with your valuables simpler and safer.

Supportive Posture

The comfortable Cionlli rail and spring saddle and swept back handlebars encourage riding with an upright posture for better spinal support.

Please CALL US for stock & colour availability

Merida Big Trail 400

While clearly a trail loving long-travel hardtail, our new BIG.TRAIL also offers built-in versatility through hidden rack, fender and kick stand mounts in case you like to turn the BIG.TRAIL into a 'SUV' commuter.
Ability to fit two water bottles into the frame without making the bottles difficult to reach. Perfect for long marathon races and extended trail sessions.
Our BIG.TRAIL rolls on 29er wheels and has tyre clearance for up go 2.5″ trail tyres. The combination of 29er wheels and 2.5″ tyres offer plenty or corner and climbing grip, while the big tyre volume and the 29er 'rolling over ability' give our trail hardtail extra comfort and stability.
The new 'Trail Mount' is positioned underneath the top tube/seat tube junction and these ingenious fixing points makes fitting an additional tool or a pump a breeze. The 'Trail Mount' offers a real advantage if you prefer to keep the weight off your back or if you are heading out for an extra-long outing where you might need to carry additional gear.

We feature internal cable routing on all models. Cables are routed through the frame, entering and exiting through smooth sockets. Only a clever system for our internal guiding and fixing guarantees reliable and rattle free routing, whilst the cables are protected from moisture and dirt and gives the bike a cleaner look.

A long reach, paired with a slack 65.5° head angle and a steep seat angle make our BIG.TRAIL a solid descender even when the trail is littered with roots and rocks, while maintaining impressive climbing abilities, due to the central seating position over the bottom bracket. The extra short seat tube and low stand over hight help to create lots of space to manoeuvre the bike when the trail gets demanding but also allow for long travel dropper posts.

Most models offer Boost technology at the front and rear. The shallower axle standard of 110 mm (front) and 148 mm (rear) allows for a wider spoke angle, resulting in a stiffer and stronger wheel, hugely beneficial on these bikes given the impacts they endure. The BIG.TRAIL 200 has 100 mm fork spacing.